Plant City Family Teaches Others About Food Security
2 min read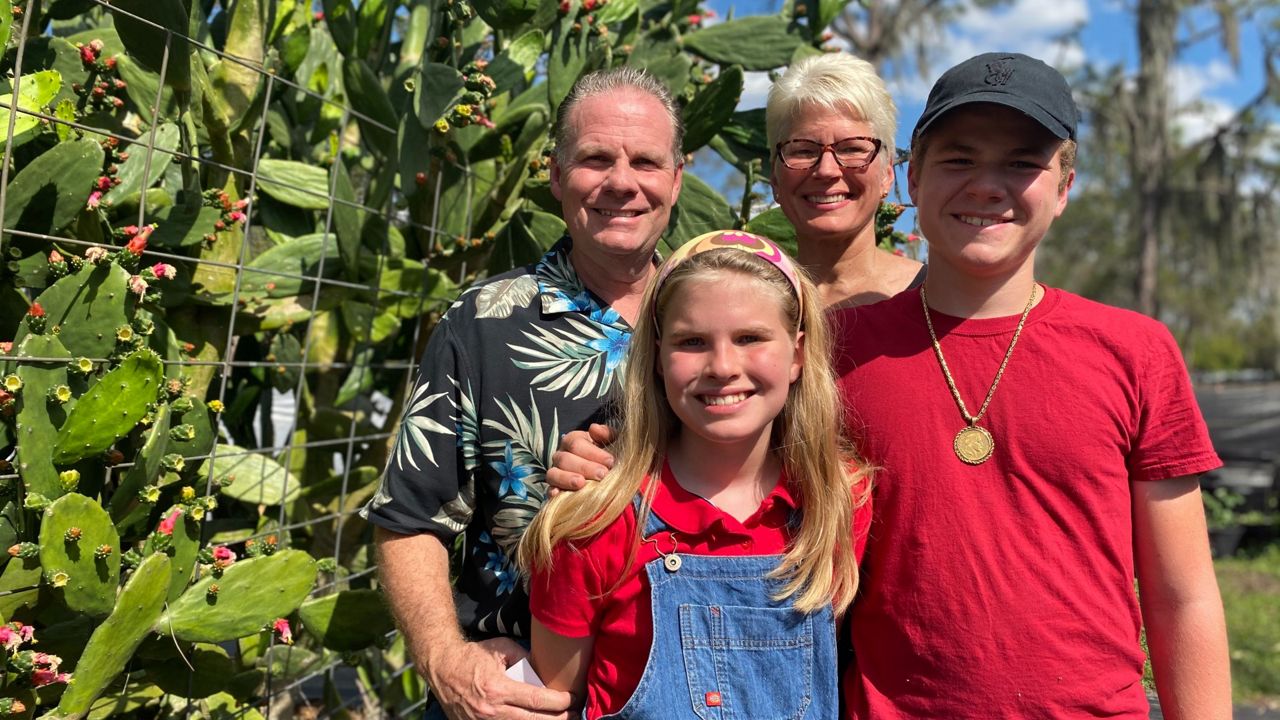 PLANT CITY, Fla. – A Plant City family is teaching their community about the importance of food security with Aquaponic systems. 
---
What You Need To Know
Plant City family teaching community about food security
Gonyon family grows food organically on their farm
They are helping other learn about aquaponic systems
---
"I've traveled to 72 different countries doing missionary work," Pastor Eric Gonyon said. "When I was in Haiti, I saw 4,000 orphans being fed on one of these aquaponic systems." 
So, Pastor Gonyon brought what he learned in Haiti back to Florida and now builds these food resources for his people in his community. 
"I want to produce my own meat and vegetables," Spirit Mike said. "The biproduct of the fish is fertilizer and the waste by itself produces all this vegetation."
Spirit Mike and others are now investing in aquaponic systems for their community. These gardening tubs are said to produce 8 times a much organic food on 1/6th the amount of water. 
"This is what we need in the inner-city." An east Tampa gardener is taking his food production to the next level with @alandofdelight See how on @BN9 pic.twitter.com/qalUIyJyeT

— Ashonti Ford TV (@AshontiFordBN9) March 1, 2021
"Anyone can do it,; we try to educate people on growing their own food," Pastor Gonyon said, as he walked through one of his many greenhouses. "
Land of Delight in Plant City is currently a host to dozen of these self-sustaining acuaponic systems. 
"This is a 6 grow pod system and this would easily feed three families off of one," Pastor Gonyon said. "You can grow cherry tomatoes, cucumbers. You can go up and vertical."
The Gonyon family lives on a 6-acre farm where they also sell produce from their land. Currently the family focuses on growing organically with 0 pesticides. 
"There is a way it can be done, people think they can't grow without pesticides but they can," Pastor Gonyon said. 
Land of Delight has petting zoos, a farmers market and dozens of different locally grown fruit and vegetables. 
"It's a great place to come on the weekend, said Pastor Gonyon's wife, Jennifer Gonyon. 
Jennifer helps to make many of the organic soaps and other household items located in their store. Both of their kids, Emily and Elliott work on the farm. 
"I teach a bee and honey class every weekend," said 12-year-old Emily. "Raw local honey can boost your energy." 
Got two minutes? Check out this little cutie over at @alandofdelight ☀️ She teaches a 🐝 + 🍯 class every weekend alongside her dad who teaches folks how to grow their own food. Check out this family affair on @BN9 pic.twitter.com/GownLaJcGi

— Ashonti Ford TV (@AshontiFordBN9) March 1, 2021
Land of Delight has a number of outdoor activities for the family to emjy every weekend in addition to classes that teach people how they can grow their own food with the aquaponic method.